Looking for the best tacos in Miami? Yes, we hear you. Finding the best tacos in Miami can be quite a chore. There are too many taco places out there, and hunting for them may not be the most convenient thing to do.
So, if you want to skip to the good part and treat your taste buds to some delicious savory tacos, then we have just the right places to visit where you can find the best tacos in Miami.
If you are in Miami only for a while and are looking for some of the best things to do in Miami, visiting these taco places and trying out their tacos should make it to your bucket list. You are sure to remember the taste of these best tacos in Miami for a very long time.
Best Tacos in Miami
What makes a perfect taco? Well, that's a rather tricky question to answer. There's a lot that goes on into making a good taco. A fresh tortilla is a must for starters, which tastes so much better when it's handmade.
The next thing on the list is protein or vegetables. Depending on the type of taco, the meat should be prepared with much care. Then comes the salsa and the toppings.
You can do so much with tacos, as there is so much room for creativity. Sometimes it's a hit and sometimes a miss, but we can all agree that we love going back to the basics and the traditional tacos we've all grown to love at the end of the day.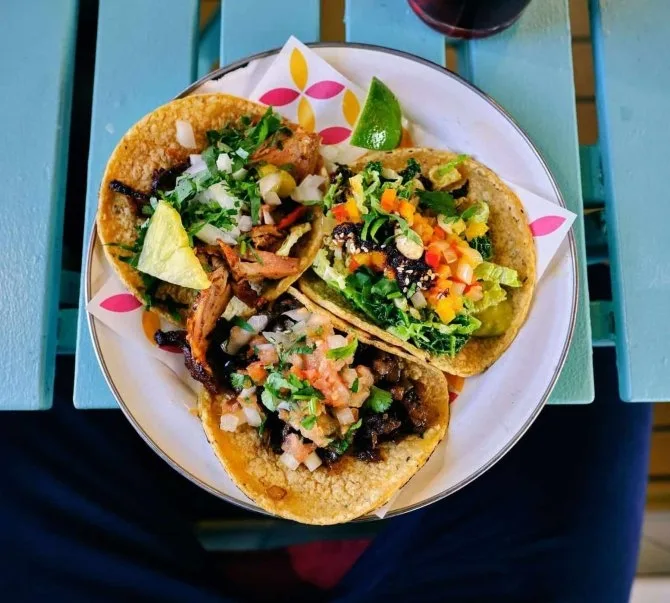 The vibrant streets of Miami are home to some of the most delicious and award-winning tacos. A lot of locals and travelers alike flock to these places just to get a taste of these delicious tacos.
From Tacos al pastor to Carne Asada to Barbacoa and so much more, we have all that you need right here in the list of 6 restaurants and taco shops serving the best tacos in Miami.
3. Pilo's Street Tacos
If you don't look closely, you could miss out on this gem of a place in the heart of Brickell. The owner of this great taco place, Derek Gonzalez, started out this quick-service restaurant as he was reminiscing about his late Aunt Pilo's amazing tacos, she made for him during his childhood days.
Pilo's street tacos are known for their authentic and bold flavors as featured in their famous La Pilo Tacos filled with pork al pastor and sprinkled with some white onions and cilantro on corn tortillas.
Their Birria Taco is another favorite you won't get enough of. It is filled with beef short rib and stuffed with chihuahua cheese and topped with cilantro and onion.
Pilo's Street also takes pride in their special homemade guacamole which makes an excellent side to the amazing food on the menu.
In 2020, the family started Pilo's Tequila Garden at Miami's Wynwood Art District which is the only Tequila Garden in the world. They serve the same menu as in the first location but added to it a vast collection of Tequilas.
No doubt, Pilo's Street Tacos serves one of the best tacos in Miami, but that's not all about this shop. Just a short while after Gonzalez opened the shop at the first location, his beloved Aunt Pilo who had down syndrome, passed away.
Pilos has employed many individuals who have intellectual and developmental disabilities, which are referred to as 'Special disabilities' to help them achieve their dreams.
This restaurant does not just serve delicious tacos but also desires to become the largest employer of individuals having special abilities.
Credits: https://usatales.com/6-best-tacos-in-miami-you-absolutely-must-try/